About Cantuaria Stonemasons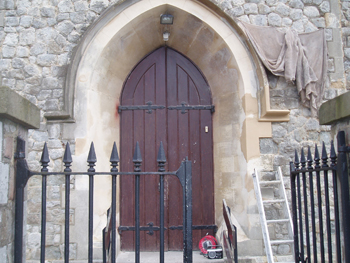 Alan trained at Dover castle and qualified with a city and guilds distinction ,he worked at a local company for several years working on churches and other public buildings, he aiso worked on a colonial mansion in Brisbane Australia for 18 months and also in the usa for a short spell for the last 23 years he has mainly been working in kent and London on various projects.
Bill trained at Dover Castle and qualified with a City and Guilds distinction. He went on to work in various stoneyards and many sites in London working on prestigious buildings such as The Houses Of Parliment, Hampton Court Palace and also carved the Gurkha Monument that stands in Whitehall.
Alan and Bill worked at a local company for several years and became close friends. They worked independently of each other for some years, collaborating on larger projects. After nearly two years working together Alan and Bill formed a business partnership, Cantuaria Stonemasons.
Over 50 Years Experience
With over 50 years experience in the stone industry they have the skills, knowledge and technology to cover just about every aspect of stonemasonry.
Alan and Bill specialises in ecclesiastical and architectural restoration, renovation and new build.
Cantuaria Stonemasons - Limited Company
Cantuaria Stonemasons is a limited company and prides itself on its reputation through recommendation and by word-of-mouth. We are fully trained, qualified and insured.